3193 Portage Avenue
Real Canadian Superstore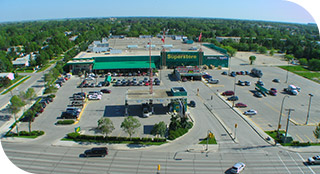 Type: Retail
Year Acquired: 1993
Year Built: 1993
Land Area: 8.1 acres
Zoning: C3 (Commercial – Corridor) Real Canadian Superstore
Features: Bus route, centrally located, heavy traffic and direct access to a controlled intersection.
The Real Canadian Superstore includes 8.1-acres of land in St. James, Winnipeg. The project was acquired as part of a joint venture in 1989 from a municipal agency.
Building
The building was originally constructed as a 124,000 supermarket with underground parking. It was renovated with approximately and additional 20,000 square feet soon after opening.
Land
The land is composed of 8.1-acres of C3 (commercial 3) zoned land with direct vehicle access to a controlled intersection. The site is also complimented by its high-visibility and high-traffic count location.
Site Photos