1150 Taylor Avenue
Grant Park Festival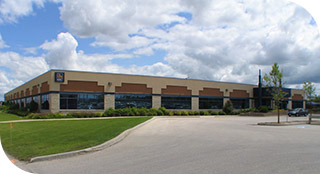 Type: Retail
Year Acquired: 1999
Year Built: 1999
Land Area: 26 acres
Zoning: C3 (Commercial – Corridor), M2 (Manufacturing – General), PDO Airport Vicinity
Features: Bus route, centrally located, heavy traffic and direct access to a controlled intersection.
The Grant Park Festival includes 36-acres of land in River Heights, Winnipeg. The project was acquired as part of a joint venture through a disposition offering from a CN Rail. The first development onsite was a 54,000 square foot call centre for Royal Bank of Canada.
Land
The land is composed of 36-acres of raw C2 (commercial 2) zoned land with ample servicing available. The site offers a critical mass of raw land available for current and future development demand. The site is also complimented by vehicle access via median cut and a controlled intersection.
Site Photos