270 St. Anne's Road
TD Bank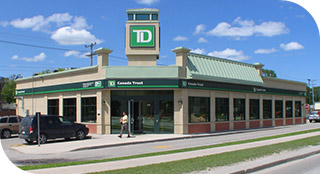 Type: Retail
Year Acquired: 2004
Year Built: 2004
Land Area: .54 acre
Zoning: C2 (Commercial – Community)
Features: Modern building architecture, expansion room, drive-thru ATM.
This TD Bank branch is a beautiful 4,500 square foot banking facility constructed in 2003. The facility is located at the intersection of St. Anne's Road and Hull Avenue in St. Vital, Winnipeg.
Building
The building is a 4,500 square foot neighborhood-bank branch features a modern banking atmosphere and a drive-thru ATM.
Land
The land provides the TD Bank with a prototypical branch layout, ample parking, north and southbound traffic access as well as terrific visibility.
Site Photos