65 Redwood Avenue
Former Molson Brewery Site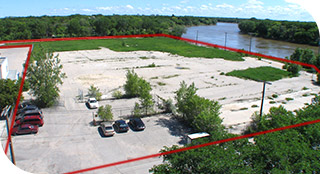 Type: Retail
Year Acquired: 2007
Land Area: 8 acres
Zoning: C2 (Commercial – Community)
65 Redwood Avenue is located at the southern limit of the Mynarski ward of Winnipeg, Manitoba, Canada. The parcel features +/- 700 feet of frontage on the Red River and approximately 8-acres of C2 (Commercial 2) zoned land. This parcel also offers access to amenities such as the neighboring St. John's Park, Winnipeg River-Walk Path system, nearby commercial/retail facilities and is located in close proximity to downtown Winnipeg.
Phase 1 environmental review was completed and suggests no further action is required. A topographical study has been completed for use in building design and layout. In 2009, traffic study was completed which suggested no off-site improvements for the development of this parcel. All these studies allow for the punctual development of this parcel for any use falling under C2 zoning.
In addition to the site survey, there are also site plans that show the capability of this parcel including: retail, office and residential uses. Please contact us for more information.
Site Photos
Site Plans