1366 Henderson Highway
Cambrian Credit Union Branch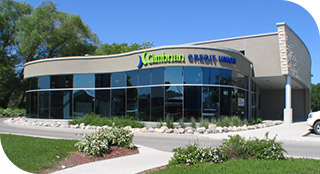 Type: Retail
Year Acquired: 2007
Year Built: 2007
Land Area: 1.3 acres
Zoning: C2 (Commercial – Community)
Parking: 53 stalls
Features: Modern building architecture, expansion room, drive-thru ATM, direct access to a controlled intersection.
This Cambrian Credit Union branch is a beautiful 6,000 square foot banking facility constructed in early 2005. The facility is located at the intersection of Henderson Highway and Springfield Road in Winnipeg, Manitoba, Canada.
Building
The building is a 6,000 square foot neighborhood-bank branch featuring floor to ceiling exterior glazing, laminate wooden crossbeams and a drive-thru ATM that when combined creates a convenient, professional and modern banking atmosphere.
Land
The land provides Cambrian Credit Union and their clients with 53 parking stalls and direct vehicle access to a controlled intersection. The parcel of land was part of a decommissioned railway and was subdivided and rezoned to a C2 (commercial 2) designation.
Site Photos
Site Plans