2190 McGillivray Boulevard
Winnipeg, Manitoba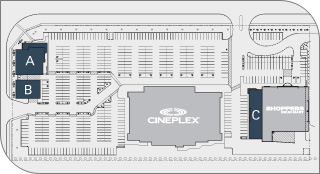 Type: Retail
Year Acquired: 2011
Land Area: 7.66 acres
Zoning: C4 (Community Regional)
Features: Ample parking, high visibility, cross access, controlled intersection, mature area.
2190 McGillivray was initially built in 2006 and was home to Cinema City. More recently, the site was acquired by Landstar for redevelopment. Throughout the due diligence process the site proved to be a prime candidate for additional development.
Today 2190 McGillivray features: Cinema City, Shoppers Drug Mart, great visibility, direct vehicle access to Kenaston Boulevard, McGillivray Boulevard, Columbia Drive and ample parking (over 500 stalls onsite). The sites location in the centre of southwest Winnipeg's expanding regional retail hub is the driving force behind the success and long-term stability of the site.
Site Plans
Download Brochure